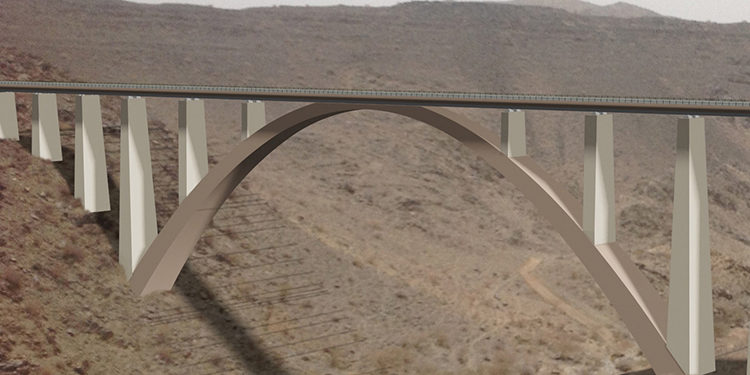 Preliminary and Detail Design of the new Saudi Landbridge Railway, with and arch bridge 300 m span.
Country: Saudi Arabia
Year: 2014
MAIN CLIENT
Italferr Spa
Contract by EDIN s.r.l.
Technical director Marcello Colasanti
The Saudi Landbridge Project is a planned railway project which forms part of the Saudi Railways Expansion Programme.
Intended mainly for freight, the railway will connect Jeddah on the Red Sea coast with the Saudi Arabian capital Riyadh. The existing 450 km line between Riyadh and Dammam will be upgraded,[4] and a second 115 km new line is planned to connect Dammam with Jubail on the Persian Gulf. The newly constructed lines will be single track, but the infrastructure (including bridges and tunnels) will be designed to permit a future upgrade to dual track.
The project is part of the Saudi vision 2030 that aims at being a logistic hub that connects the three contracts together.