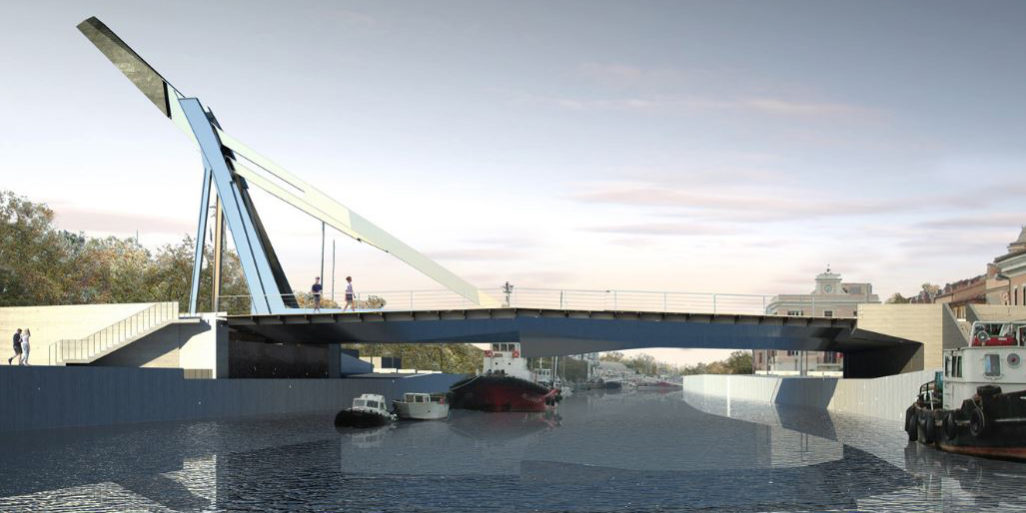 Final design.
Country: Italy
Year: 2012
MAIN CLIENT
Municipality of Fiumicino
Contract by EDIN s.r.l.
Technical director Marcello Colasanti
The circulation of vehicles is entrusted to a system of connection of ramps and viaducts that connect to the current main road system, freeing up a useful height of 5.30 meters on which the new bridge is grafted.
Freed from traffic defects and harmonized in the new urban context, the bridge goes beyond the mere meaning of connection to assume a territorial role as a landmark. Abolished the search for fixed relationships with the rest of the urban space, suspended over the water and the new parterre of squares, only its vertical connotation remains, an erect sign with no background.
Its architecture was conceived to enhance its two-sided nature. The nervous and dynamic lines of the external, vertical carpentry are contrasted by the wavy shiny surface that contains them in its concavity, also maintaining a serene dialogue with the waters flowing in the canal.
On the level of the city, on the other hand, the dynamic design is perceived, made up of misalignments and disproportions that allow us to foresee the movement even when stationary.
More generally, we could say that we have sought that unitary character capable of expressing a high recognizability value, necessary for such a dispersed space to become a "metropolitan place".